Discover more from Everything But Horror
A critical guide to family-friendly viewing: reviews and recommendations, published periodically.
'Man in the Wilderness' Review: Truth in Advertising
Richard Harris and John Huston star in a film directed by Richard C. Sarafian and released by Warner Bros. in 1971.
Now Streaming: Left for dead in the middle of nowhere. Could you survive? 
Richard Harris stars as Zachary Bass, aka the titular character. The original screenplay by longtime Hollywood scribe Jack DeWitt, whose career dated back to 1941 but whose most pertinent credit before this was A Man Called Horse (1970), also starring Richard Harris, reflects the writer adapting to the times, drawing upon his long experience in crafting scripts for genre films, especially Westerns. 
Supposedly based on a true story that also inspired The Revenant (2015), we first meet Zachary Bass in 1820 as a member of a trapping party, led by Captain Henry (John Huston), that was hurrying home from the Northwest Territories after a two-year expedition, hoping to beat the onset of winter. A man of few words, Bass is hunting with a younger man who blunders, leaving Bass alone for a few minutes, whereupon he is attacked by a bear and suffers what appear to be mortal wounds. 
Reluctantly, Captain Henry concludes that Bass will die soon, but has built up sufficient trust and devotion to him that he orders two of his men to remain behind and serve as guards, waiting for him to die so they can give him a proper burial. Meanwhile, Captain Henry must continue his hurried passage through dangerous territory where the native peoples are not too friendly to passing, hostile strangers. And winter is coming. 
Zachary Bass, however, has an indomitable will to live, and he survives the night. Ordered to put him out of his misery if he survived the night, so that they can rejoin the main expedition, the guards are instead cowed by silent, though threatening, native peoples and flee, abandoning Bass to the elements, thinking he will die soon anyway. 
The film then alternates between Captain Henry's expedition, where the forlorn leader is beset by regrets about leaving Bass behind, and Bass' survival trek, on which he is truly a lone man in the wilderness.
Richard C. Sarafian directed; Sarafian began as a reporter, before meeting Robert Altman and getting hired as his assistant. He then gained considerable experience helming television shows in the early 60s, everything from Maverick to The Twilight Zone to Batman, as well as four feature films as the decade progressed. His future cult hit, Vanishing Point (1971), was released just a few months earlier.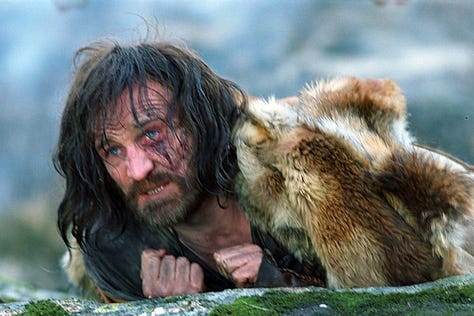 As it happens, Altman directed McCabe & Mr. Miller in 1971, but Man in the Wilderness is certainly not anything like that distinctive Western. Instead, it bears a greater resemblance to A Man Called Horse, in which a single white man becomes absorbed by native peoples and begins following their traditions. 
Rather than people, Man in the Wilderness focuses on how an individual with great respect for the Great Outdoors can survive and thrive.  The narrative track that follows Zachary Bass in the present (1820) also dodges back to the character's younger years, showing how his rough upbringing led him to a great love, which then leads to the motivation for his burning desire to get home. 
Despite great personal problems, Richard Harris often gave incandescent performances. He could certainly deliver eloquent speeches and make them his own, but his presence was enough to overcome scripts that didn't deliver much. His character here has few lines of dialogue, which makes sense, since he is the only human in sight for most of his scenes. His presence alone, though, remains compelling, and his fire powers the entire film. 
Reportedly, John Huston, who was directing, and star George C. Scott clashed during production on The Last Run (1971), and Huston quit. A few days later, Huston came on board Man in the Wilderness. Huston brings a poignant side to his character, which adds to his relentless drive to see his men home safely and for the expedition to reap the rewards of the long journey. It also makes for a tense final scene. 
The film was released on November 24, 1971. [Available on digital and disc. Visit Warner Bros. official site for more information.]